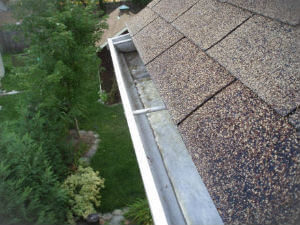 We offer customers in and around London a truly bespoke gutter cleaning service, tailored to their individual requirements. It doesn't matter what type of material your gutters are made of. We clean all types of guttering, including elegant cast-iron, vinyl, and aluminium.
Our operatives can service you at a convenient time as we are available from Monday to Sunday. They will readily give you an on-site estimate and set an all-inclusive price for our high-end services. Your gutters will be cleaned with a specialised vacuuming system and telescopic poles, extending up to twelve metres. Once done, we can show you digital pictures of the final results as we have on-board cameras on our poles. Your satisfaction is 100% guaranteed!
Affordable Gutter Cleaners
If your gutters are overflowing, leaking or overgrown with vegetation, it is probably about time you call to schedule an appointment for our company's gutter cleaning services, available throughout Greater London and the neighbouring boroughs.
We've got what it takes to clean any type of guttering, be it cast-iron, vinyl or steel. With years of experience behind our back, we can unclog blockages in a matter of minutes. Of course, our cutting-edge equipment also helps. We use the modern wet/dry vacuuming technology and extendible poles which allow us to clean high-level gutters from the safety of the ground. Results are always spectacular with us. Call us for an appointment and see for yourself!
If you can't remember when was the last time you had your gutters cleaned professionally, you may be in trouble. But our professional gutter cleaning services, based in London and Greater London, can restore your gutters back to normal and spare you the costly water damages.
High Quality Gutter Cleaning Services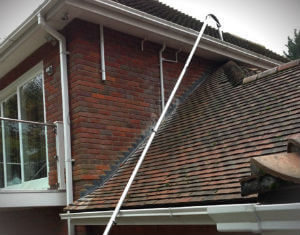 Don't be concerned about the costs – we will let you know the price in advance. Our team operates with advanced machines, capable of blasting away silt, leaves, moss, twigs and even birds' nests from your gutters. Should we encounter any damages while cleaning, we will report them to you immediately so you can have them fixed. Call us any day of the week – we stand ready to assist you on weekends and bank holidays, too!
How often do you clean your gutters? If you put it off because it's too labour-intensive, we advise you to make use of the expert gutter cleaning services we offer to domestic clients and businesses across London.
We are among the few gutter cleaning contractors to offer customers a high-standard service at rates, they can actually afford. What's more, we give a one-month guarantee to everyone who uses the service. The cleaning is carried out with state-of-the-art vacuuming machines and telescopic poles which allow us to reach upper-story gutters from ground level. We can show you pictures taken with our remote pole camera so that you feel safe in the knowledge all work is completed to a professional standard. We never disappoint!